DETAIL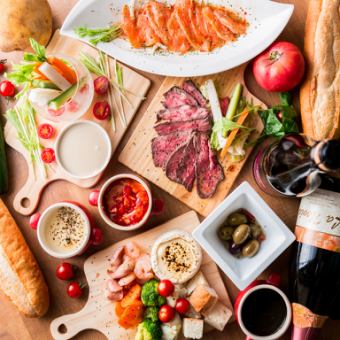 All you can eat roast beef and cheese fondue etc 7 items "Ohana course" 3 hours all you can drink 3,980 yen ⇒ 2,980 yen
By using a coupon
2980 yen
Tax excl. / Fri Sat before the holidays 2 hours system + 300 yen
We offer seven excellent items such as thick cheese fondue using two types of Guriel cheese and emmental cheese and home-made soft roast beef ♪ Ideal for drinking party and girls' association in Shinjuku etc. It will be a course! Have a nice banquet in a calm atmosphere room ♪
Menu

【1】 AYANA's Oriental Salad

【2】 Spring roll of Vietnamese shrimp and fresh vegetables

【3】 Chicken skewers with peanut sauce

【4】 Roast chicken with aromatic fragrant rose mary

【5】 Special product! Mature authentic roast beef

【6】 Main dish you can choose

■ Seasonal pasta ■ AYANA's Nasi goreng

【7】 rich cheese fondue of Guriel cheese and emmental cheese

⇒ + 500 yen cheese fondue can be changed to "all you can eat"!

【8】 Patissier Special Dolce

◎ course of your description ◎

· 3 day limited only for one day

· 2 persons ~ OK

- Reservation required ※ day reservation also OK

- By buying situation there is the case that the contents are subject to change.· Cancellation of the day will be subject to cancellation fee.Please note.

· Before Kimiyoshi Blessing · The busy season is 2 hours + 300 yen.
Coupon that can be used
【Booking privilege】 ◎ Champagne Tower ♪ for anniversaries and parties

Presentation conditions

At the time of booking and when visiting

Conditions of use

Reservation required / Can not be used with other services / Can not be used with other coupons / Present at the time of entry / Courses over 2480 yen Reservation limit / 4+ people

Expiration date

Until the end of January 2018